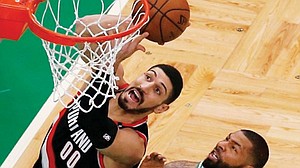 U. S. Sen. Ron Wyden, D-Oregon, has come to the defense of Portland Trail Blazers center Enes Kanter in his continuing battle with the government of Turkey, which has taken actions against Kanter, a Turkey national, for his criticisms of Turkey's president.
"President Erdogan has responded like many thin-skinned autocrats before him, by going after Mr. Kanter and his family," Wyden wrote in a letter to Secretary of State Mike Pompeo Friday, in which he urged the U.S. to "not stay silent in the face of such a blatant assault on free thought and expressions."
Kanter has been an outspoken critic of Erdogan for years, calling him "the Hitler of our century" when his passport was revoked by the Turkish government and he was detained in a Romanian airport in 2017.
Turkey's demand that INTERPOL issue a "red notice" to extradite him to Turkey has kept the former Knicks player in the United states when his former team traveled to London earlier this season, and last week when the Blazers went to Toronto.
Enes' father, Mehmet Kanter, was sentenced to 15 years in prison by the Turkish government in June after a failed military coup, even though he publicly disavowed his son and his beliefs. The Turkish government labeled both Enes and his father as being part of a terrorist organization.