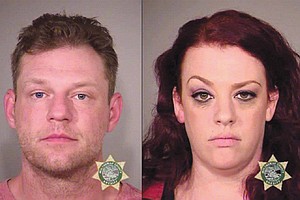 On Tuesday, a Multnomah County jury delivered guilty verdicts against Russell Courtier, a member of the white supremacist prison gang European Kindred, who struck and killed black teenager Larnell Bruce with a car outside a Gresham 7-Eleven in 2016.
Courtier, 40, was convicted on all three charges against him: Murder, hit–and-run, and intimidation, the last of which is a hate crime charge. His co-defendant, Colleen Hunt, 37, faced the same charges, but pleaded guilty to manslaughter during the trial.
The murder and hit-and-run verdicts against Courtier were unanimous; the intimidation charge was 10-2, which is enough to bring a conviction for any charge other than murder in Oregon.
The prosecution argued that Courtier was motivated by white supremacist beliefs when he took the wheel of Hunt's red Jeep Wrangler and ran down Bruce, killing him. Witnesses said they heard Hunt yelling "get him, baby!" and "run him over!" She later admitted to egging on Courtier.
The deadly confrontation followed an apparent altercation between Courtier and Bruce earlier outside the convenience store. Surveillance video of the fight was used in both the prosecution and defense's arguments.
Courtier will face a minimum sentence of life in prison with the possibility of release after 25 years, while Hunt has agreed to a 10 year prison term. As of Tuesday, no dates for sentencing in the cases had been made.