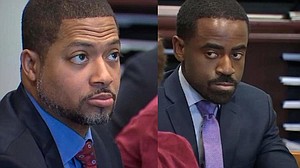 The founder and former chief executive officer of Portland's Black Parent Initiative expressed his gratitude Friday after a judge found him and his co-defendant not guilty of sexual assault after a two week trial at the Multnomah County Courthouse.
McGee, 33, and Aubre Dickson, 44, a former bank executive and former chairman of the Oregon Housing Stability Council, prominent members of Portland's African American community, were charged with sexually assaulting a woman after a night partying nearly seven years ago.
Both men lost their jobs after the accusations were first levied against them by the alleged victim, Erica Naito-Campbell, 38, the granddaughter of prominent Portland real estate developer Bill Naito, in a story published in the Willamette Week.
Judge David Rees reached the not guilty verdicts Friday, finding the state failed to prove their case in a trial with no jury.
"I cannot conclude with moral certainty that the defendants are guilty," Rees said.
The men were charged with touching Naito-Campbell sexually without her consent.
"This case is about two men not taking 'no' for an answer, said Deputy District Attorney Amanda Nadell in closing arguments.
Mc Gee's attorney claimed Naito-Campbell was inviting the sexual encounter with the men by talking about her interest in a threesome, drinking with them, going to a strip club with them and going to McGee's house when his wife wasn't home.
"They didn't get her there to commit crimes of sexual assault, Christina Mascall said. "When she decided the party was over, guess what? It just stopped… They realized she wasn't into in and it stopped."
Naito-Campbell testified she fought off an attempted rape, saying she had zero sexual interest in the men. She said she was motivated in bring the accusations to the public in a story with the Willamette Week after McGee filed to run for Multnomah County Commissioner in last year's primary election. McGee and Dickson did not take the stand.
When the not guilty verdicts were read Friday, cries of joy from the families of McGee and Dixon erupted from the courtroom. Erica Naito-Campbell abruptly ran out of the courtroom and her bother hung his head down and sobbed.
Outside of court, McGee in remarks broadcast by OregonLive.com, said he was thankful for the verdict, but remorseful for letting down the community.
"I'm in love with my family and I'm in love with my wife and I apologize to the community. I feel like I let a lot of people down and have a lifetime to make it up. Right now I'm focusing on my family, " he said
The district attorney's office issued a statement saying it disagreed with the verdicts.
"We continue to believe the victim in this case who courageously came forward to report what happened to her in May 2012. Our unwavering commitment of supporting and advocating for survivors of sexual assault remains rooted in our core values. We stand shoulder-to-shoulder with all survivors of sexual assault," the statement said.