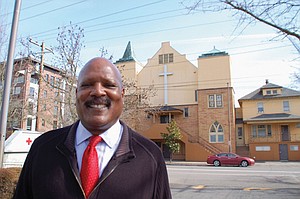 Rv. King's message was undoubtedly resonant to the then-segregated neighborhood residents. The church would later be the site of the statewide memorial service held for King after his death in 1968. In 2006, the church also hosted a memorial service for Coretta Scott King, who was Hennessee's godmother.
Rev. O.B. Williams, who passed away in 1993, and wife Ida, who passed away in 2010, were given numerous community recognitions in their lifetimes. That included a community award for Ida by the Black Caucus of Portland in 1979; and then-Mayor Bud Clark proclaiming May 27 as O.B Williams Day in 1986.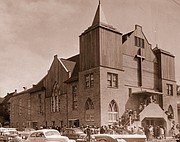 Since 2007, under the leadership of Pastor Hennessee, the church hosts Drum Major celebrations each year in tribute to Dr. King on the weekend of the national holiday honoring the civil rights icon. In January the church hosted Ambassador Attalah Shabazz, the eldest daughter of Malcolm X and Dr. Betty Shabazz, as its keynote speaker. The celebration annually honors community leaders and provides scholarships for local college-bound high school students.
In 2016 the church was officially listed on the National Register of Historic places thanks in part to the efforts of Burell, who wrote a 133-page nomination report for the listing. He also authored a coffee table book of the history of the church and its leadership, "Vancouver Avenue: Yesterday, Today, and Forever," in 2009.
By 2016, the membership of the church dwindled to 400, coinciding with the gentrification and displacement of black community members from the church's Eliot neighborhood over the last couple of decades. Current plans would bolster the church's prominence in the community for decades to come by establishing a new African-American Museum at the church. Plans call for an exhibit gallery, spanning a little over 1,000 square feet, which will showcase the legacy of blacks in the community, Burell said.
"There's a lot of history in this area and yet there's no one place you can go to kind of say, let's go look at the exhibits, so our goal is to develop that," Hennessee said.
Thanks to a $175,000 grant from the National Fund for Sacred Places, and other pending grants and donations, the museum will be part of a larger renovation project that will unfold over the next year.
It will include the formation of a dedicated space for iUrban Teen, a partnering organization that brings together underrepresented teens and young adults for career exploration and mentoring in the science, technology, engineering, math, and arts fields. A board room for community use is also in the works.