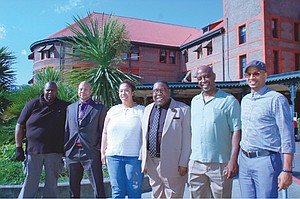 When the Oregon Department of Justice ordered the disbanding of the African American Chamber of Commerce, headed by Roy Jay, it left a void for business interests in Portland's black community. Jay was investigated for embezzlement but the case ended in a settlement and no charges were brought against him. He was ordered, however, to close down several nonprofits, including the chamber.
Now a new chamber has been formed, the Black American Chamber of Commerce, which promises to provide resources, scholarships and assistance to its members.
John Tolbert, executive director of the new group, said it was formed to preserve the integrity of the black economic community.
"We are bringing a professional image to the forefront to help us build a coalition of businesses so we can have one voice and help build one another up," he said.
Prosper Portland, the city's economic development arm, helped get the new chamber launched, Tolbert said, and the chamber board is in the process of setting up shop, which means adopting bylaws, hiring staff and looking for funding.
"Hopefully we'll get going in 2020 and we have a lot in place, including grants to get funding in place," he said.
The chamber is looking for new members, Tolbert said, and will offer many services.
"We want to be able to showcase our members to provide networking and business solutions," he said. "We are also very interested in education, including scholarships and trade schools, and we want to be in all sectors, in travel and in transportation departments."
The city has already given a helping hand to Theo Cason, owner of Cason's Fine Meats and another charter board member for the new chamber.
Cason said he previously had "landlord issues" and had to close his store for a whole year. But thanks to refinancing help from Prosper Portland, he was able to open a new location at Alberta Commons on the corner of Northeast Martin Luther King Jr. Boulevard and Alberta Street. The retail block was recently constructed as he second half of a long term plan for retail development geared toward the heart of Portland's historic black community and followed the construction of Vanport Square more than a decade ago, the retail complex immediately to the north.
"My wife didn't want me to open and wanted me to stay retired," Cason said. "But I did it for the neighborhood and the community's sake."
Cason said he fully supports the new chamber's mission of education, and says it's important to pass on skills like his to young people.
"You can be successful if you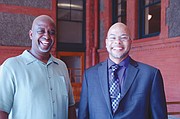 just learn a skill or trade," he said.
Tolbert said that as the economy "continues to do what it's doing," the city needs to support and encourage mom and pop stores like Cason's.
"We want to make sure people of color have opportunities in some of the funding through the city and Prosper Portland, to create financial opportunities so we can get the money we need to expand," he said.
Chamber president Jesse Hyatt said the board hopes to expand the new chamber through weekly Thursday morning meetings.
"We will do cross marketing, expand our world and hope to attract new members," he said.
Hyatt is the founder of Hyatt and Associates, and Tolbert is general manager of Po'Shines. Other members of the new chamber board are Lené Hopson, senior administrative coordinator at Prosper Portland; Margo Bryant of Portland General Electric; E.D. Owens of Amazing Glass; E.D. Mondaine, president of the Portland NAACP; and his assistant Antjuan Tolbert of Empyrean Perspectives. Hopson points out that she is not representing Prosper Portland on the board, but serves as a volunteer community member.
Mondaine said he's glad to serve on the board and hopes to promote more inclusiveness for African Americans in the economic sector.
"We must be a voice of access for entrepreneurial interests," he said. "We must be stakeholders in the Oregon economy. We want to create an ambiance of people representing the community from the oldest to the youngest."
To learn more about the Black American Chamber of Commerce and keep up with developments at the new group, log online to blackamericanchamber.org.