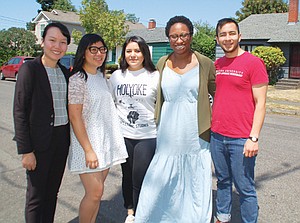 Tenant and landlord laws have undergone some dramatic changes both in Portland and statewide. To help navigate the recent changes, the Portland Observer sat down with Katrina Holland, executive director of Community Alliance of Tenants, a membership-driven organization focusing on tenant rights, housing education and advocacy.
Most of the new laws and regulations lean toward more protections for renters, both in the city and statewide, a "positive direction," according to Holland. One of the biggest changes in state law came with the passage of Senate Bill 608. The housing legislation put limits on rent increases and the use of no cause eviction notices.
"A tenant whose occupancy has been at least a year or longer will be protected from no cause terminations in the sense that a landlord will no longer be able to just say all right you're done…that won't exist anymore. Now they actually have to provide a reason," Holland said.
Valid reasons for eviction can now include a tenant violating a lease agreement, but for which a landlord is compelled to provide notice to the tenant each time that occurs, Holland added.
There are also new landlord-based causes for termination of a lease, which include the landlord intending to demolish or remove the unit from the market, plans for the landlord to move into it, or if a family member of the landlord is moving in. There could also be cause for termination of the lease if the property is determined to be uninhabitable, or a person who purchased the property from the landlord decides to move in.
A statewide rent increase limit for units was also put in place by the statewide measure. That amounts to no more than 7 percent plus the consumer price index, which this year is calculated by Oregon Department of Administrative Services to be 10.3 percent and is adjusted annually. Rental units that have received a certificate of occupancy within the last 15 years are exempt from the rent increase limitation.
Holland said her group and other renter advocates were hoping to see rent increases capped much lower.
"I don't know that I can afford a 10.3 percent increase every year. So hopefully we can come back to discuss that number in the future," Holland told the Portland Observer.
She added that the cap her organization sought for was closer to 5 percent and even considered that any increase in rent should be tied to federal cost of living adjustments, like for folks living on a fixed income when they get adjustments to Social Security or to a disability.
Holland also decried the provision that tenants, within their first year of occupying a rental, can still be subject to no cause evictions under statewide law, adding that the first year of tenancy for many Oregonians is when often when people are at their most vulnerable.
"You've paid thousands of dollars to move into this new unit and then within the first 12 months you could potentially lose that unit for no reason…that was a really hard pill to swallow," she said.
The tenants' rights organization also supported the passage of House Bill 2001, which effectively got rid of exclusive single family zoning statewide.
June also saw the Portland City Council rolling back rules on the screening criteria for renters, lowering some of the barriers in terms of financial and criminal histories, personal backgrounds that have been used by landlords in the past to rule out some tenants for housing.
"We're looking at look back periods of up to seven years where folks have criminal histories because recent data shows that folks are less likely to encounter recidivism after the seven year mark, especially if some of the socio economic indicators that are tied to housing and health are met," Holland said.
A landlord may also employ their own screening criteria for tenants, should they encounter a problem with the city's default low-barrier criteria.
However if a landlord denies a tenant, they have to give an individualized assessment with supporting documents to the tenant to explain the legitimate business reason for the denial.
"We can anticipate, that hopefully, we can reduce some of the instances of discrimination, xenophobia, income discrimination instances that happen all across the city," Holland said.
Security deposit reforms were also passed by the city that essentially limits security deposit amounts to be no more than one months' rent, in most instances, and restricts when a landlord has the right to take that money. For "riskier" tenant profiles, up to one and a half times rent can be charged, Holland said.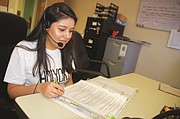 In addition, monthly gross income requirements cannot go above two times the rent on rental units that charge monthly rent amounts at or above 80 percent of the area median income in the city. Income requirements are limited to two and a half times the rent on rental units that charge rent amounts below 80 percent of area medium income.
Renter relocation assistance was another major change in Portland. The new rules mandate if a Portland renter receives a no-cause eviction (which is still allowable for renters in their first year of tenancy and for renters whose landlord owns two or fewer units and shares a unit or property with them) or a tenant is given a landlord-based reason as defined by Senate Bill 608, the landlord has to give a relocation payment. Additionally, if a tenant's rent increases above 10 percent during a 12-month period, a tenant is entitled to request relocation assistance. That request must be in writing within a certain time frame.
There's also been a rental registration program put in place to try to capture data about the market, of which city council recently passed a $60 per rental unit assessment for landlords. City housing leaders say the fee is needed to help collect better data on the housing market and to fund the city's newly established renter services office.
Holland said there currently is not much useful, centralized information about the availability of housing in Portland, for example, such as understanding how many one or two bedroom units are available to rent, how many vacancies exist, and which units are wheelchair accessible. That will change as the office compiles new data to pinpoint specific characteristics of housing that's available,
"We really want to get a true picture of our housing market and make decisions for it. We should know," Holland said.
The new state and city housing mandates have not been without opponents. Multifamily NW, a trade association for rental property owners and managers, for example, object to many of the statewide and citywide changes, which the organization calls "reckless and untested policy decisions."
Portland City Commissioner Amanda Fritz also voiced her concern of a lack of exceptions in a new low-barrier screening criteria which can prevent a landlord from rejecting an applicant with an old conviction for "violent crimes, even rape and murder," if landlords choose not to come up with their own screening criteria. Fritz on June 19 was the lone no vote of the ordinance when it came before the City Council.
In addition, several landlords testified in late July that the $60 rental fee would cause them to raise rents or not hire maintenance employees.
The Portland Observer reached out to Multifamily NW for comment in this article, but did not receive a response in time for publication.
Editor's note: This story was updated from an earlier version to clarify and correct some of the new rules and regulations.