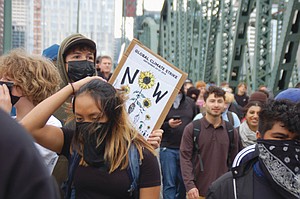 The PPB also said these were just a few selected arrests in a large scale event involving thousands of people spanning several hours.
"We are sincerely appreciative of the vast majority of participants who were entirely peaceful as they exercised their free-speech rights," a news release from the police bureau concluded.
The march across the Hawthorne Bridge lasted about two hours as participants poured onto the OMSI grounds, where some heard speeches in an area surrounded by a chain link fence. There was no way for all the marchers to fit in that space, and many stopped to eat snacks they'd brought along and then left the area.
The march included many creative signs, including one held by a toddler that read, "3-Year-Olds for Earth Justice," and another held by a teenager that read, "I See a Green Future and I'm Color-Blind. Why Don't You?" Another popular slogan was "There is No Planet B," and a couple of women dressed as nurses got their point across by carrying a stretcher with a giant, dead bumblebee on it.
The worldwide Climate Strike march was inspired by the Swedish teenager Greta Thunberg's original solitary sit-in outside the Swedish parliament building, estimated by USA Today to include as many as four million people, likely the largest climate rally ever, "from New Delhi to Antarctica" to draw attention to the climate crisis ahead of the United Nations Climate Action Summit, which started Monday.
"This is the biggest climate strike ever in history and we all should be proud of ourselves because we have done this together," Thunberg was quoted as saying.
--Beverly Corbell