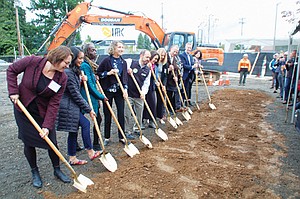 "Gateway Discovery Park is one of the most amazing new parks in the entire city of Portland and to create this mixed use project right here in this park to include families with kids, I think this speaks to the future."
As former state treasurer, Wheeler said he's not been a fan in the past of "creative financing."
"But in this case, that creativity and that innovation and that willingness to think differently about how to bring this project together has paid off mightily for the community," he said.
Hardesty, a long-time Gateway resident, said she has been on the Human Solutions board for the past nine years, said how the project would come together was a mystery to her at first.
"When we first started imagining this, we were like, is this even possible?" she said. "This park is special because it's an all ability park and no kid is left out on the sidelines. And now for housing that will be truly affordable for some families who today don't have housing they can afford to live in. And what I also love is there will be market rate housing."
No one will be able to tell the difference between the market rate units and the affordable apartments, Wheeler said.
The housing will include one-bedroom, two-bedroom and studios, according to Holst's website, and the design separates the residential and commercial space, with a six-story building housing the apartments, separated by a one-story podium that connects a two-story office facing Halsey Street with Human Solutions on the second floor with ground floor retail.
The exterior of the building will be "a pattern of silver metal panels and shimmering dark brick," with wood accents. For residential tenants, a ground floor lounge with kitchenette will provide space for both formal and informal gatherings, as well as for classes sponsored by Human Solutions.
Halsey 106 will be highly energy efficient with an energy system that delivers fresh air to each unit. Other features include an airtight building envelope, extensive green roof, and other energy-saving features.
Kimberly Branam, executive director of Prosper Portland, said when her agency bought the land back in 2008, they had a glimpse of what was possible, and the recent completion of the Halsey-Weidler Streetscape project will ensure more economic growth and better safety for access to the park and the new buildings.
--Beverly Corbell