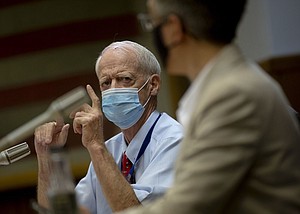 Oregon lawmakers restricted police choke holds during a testy, day-long special session Monday that mainly addressed cutting hundreds of millions of dollars from state agencies and tapping emergency reserves to help plug a $1 billion budget deficit due to COVID-19 shutdowns.
House Bill 4301 prohibits the use of choke holds by police or corrections officers except for self defense as defined by law.
"It's long past time we disallowed officers from using chokeholds," said Sen. James Manning, a Black lawmaker from Eugene and a Democrat. "It's wrong and it can be lethal. It is not a tool to deescalate. It's a tool to take a life."
The measure passed the House 55 to 2 and the Senate 22 to 5.
House Speaker Tina Kopek, who represents north Portland, released a statement saying it was particularly significant to update Oregon's obsolete deadly use of force statute to be current with Supreme Court case law. It requires officers to use de-escalation as a first resort when reasonably able. In circumstances where non-deadly force must be used, the new legislation requires that it only be to the degree necessary to prevent imminent injury to a person or accomplish arrest.
"We must keep pushing for more progress, and I look forward to continuing the work put forward by the Joint Committee on Transparent Policing and Use of Force Reform," Kotek said.
Oregon Attorney General Ellen Rosenblum also endorsed the new choke hold restrictions and congratulated Sen. Manning, Rep. Janelle Bynum of Happy Valley and the other lawmakers from the People of Color Caucus who worked for the bill's passage.
"My office was pleased to be asked to help in the development of this much needed overhaul of the statutes that govern the circumstances under which law enforcement can legally use force," Rosenblum said. "In the aftermath of the horrible death of George Floyd in Minneapolis, it is appropriate that all state legislatures consider the basic assumptions of their statutes which govern the permissible use of deadly force by law enforcement."
Some leading lawmakers had hoped to focus the special session, which began Monday and adjourned after 11 p.m., only on spending matters. The Legislature did cut roughly $400 million across state agencies and used about $400 million in emergency funds from the Education Stability Fund to help repair the budget.
But there were complaints throughout the day that Oregon's second special session of the year, held under coronavirus restrictions, didn't allow lawmakers and others enough time to debate or voice concerns about other legislation.
--Associated Press contributed to this report.