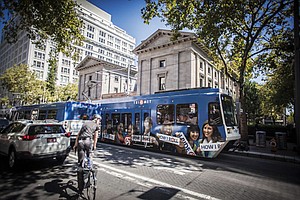 TriMet says recent events of racial injustice, including the killing of George Floyd and too many others at the hands of law enforcement, has led the regional transit agency to take action to bring lasting change in policing.
The agency is re-evaluating its approach to public safety and security to make the transit system better—more safe, welcoming and equitable for all, officials said. Last month, as part of the effort, TriMet re-allocated $1.8 million in funding from traditional police services and other sources to community-based public safety services.
Now TriMet is launching a broad community outreach and engagement effort to help inform change in its safety efforts. In partnership with the Coalition of Communities of Color and DHM Research, TriMet will seek feedback from riders, community groups, local leaders and the public, as well as our frontline workers and security officers.
"We want to bring more voices into the conversation as we re-imagine public safety and security on our transit system," said TriMet General Manager Doug Kelsey. "Transit, in and of itself, brings social equity to a community, providing access to opportunity, connecting people from all races, religions and economic levels to jobs and education. We also want to ensure the security on our transit system is fair and free of bias as we address the needs of all our riders and employees to feel safe."
TriMet will also research national best practices in equity and transit security. A third-party analysis of security challenges facing the region as well as the types of issues that riders experience on board buses and trains will also be completed.
For more on TriMet's equity actions, visit trimet.org/equity.