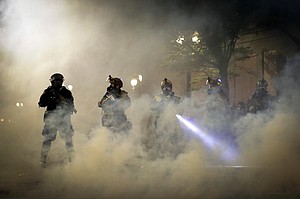 Like many other protests nationwide, they sought to highlight and call for an end to racial injustice, but they had increasingly focused on federal property even before the U.S. agents arrived.
"I have grown increasingly concerned at the nightly confrontation between local community members and federal officers. We need to recognize that the protests in Portland are not solely about the federal presence," Brown said.
Many protesters want to see the Portland Police Bureau defunded and are angry that officers used tear gas on protesters multiple times before the federal government arrived and tensions escalated further. Brown said the departure of the federal agents was a chance to address that anger and begin to make improvements in community policing.
"I will work with community leaders and elected officials to take bolder action to reform our police practices — including those of the Portland Police Bureau. We need to get this right," she said.
The nightly Portland protests often spiral into violence as demonstrators target the U.S. courthouse with rocks, fireworks and laser pointers. Federal agents respond with tear gas, so-called less-lethal ammunition and arrests.
Protesters have tried almost every night to tear down a fence erected to protect the building, set fires in the street and hurled fireworks, Molotov cocktails and bricks, rocks and bottles at the agents inside. Authorities this week reinforced the fence by putting concrete highway barriers around it.
Demonstrators near the courthouse Wednesday were met before dawn with tear gas, pepper balls and impact munitions fired by agents, the Oregonian newspaper reported.