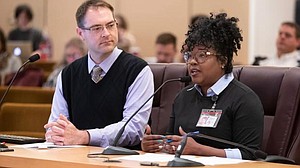 Multnomah County is reaching out to the local community with helpful information on coping with anxiety in the face of the coronavirus pandemic (COVID-19).
Anxiety doesn't always look the way we think it will, like forcing deep breaths, having a rapid heart rate or crying. And it's not just something in our heads.
Public health authorities say anxiety can cause physical illness, affecting people's sight, hearing and stomachs. Some people feel chest pain and shortness of breath. For others anxiety presents like a flu, causing muscle pain, temperature changes, dizziness and headaches.
"Everyone manages stress and anxiety in their own way, and we want to remind everyone that those reactions are normal," said Ebony Clarke, director of the Multnomah County Health Department's Behavioral Health Division. "With COVID-19 spreading, and people physically isolating, it makes sense that people would feel overwhelmed, fearful or sad."
Multnomah County has updated most of its new behavioral health services to prioritize the health and safety of the public and staff. Although many offices are physically closed to the public, staff is still available by phone and email.
"We know that mental health is crucial. We're leveraging technology to find alternatives to support people. Much of what we are doing is through video conferencing and telehealth," Clarke said. "For the handful of individuals we do need to see in person, we're finding ways to follow social distancing requirements and keep our consumers and staff safer."
Most people feel some level of fear or depression right now, with residents ordered to stay home and avoid physical contact with anyone outside their household. For some that means being physically alone. For others it means unemployment.
Many are also feeling anxiety right now. Officials can't tell us how long we'll be isolated or what this will do to our economy; health experts can't say how many people will get sick and how many will die.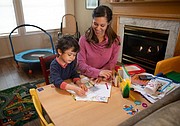 Clarke is among thousands of Oregonians who must stay home, so she focuses on the silver lining where she can. She normally works long hours outside her home so she's choosing to be grateful for the time she's now spending working alongside her husband and two sons.
"I've been able to enjoy that and reconnect," she said. "That's the piece that keeps me going."
Clarke connects with her mother, Helen, through video chatting and sends her little gifts to lift her spirits. On a recent Saturday night, that meant ordering her mother a Domino's pizza and a liter of Sprite. And as an active member of her church, Clarke logs onto weekly video services.
"When I don't connect or talk to anyone at church, I start to get anxious, fearful and worried," she said. "My faith grounds me. It helps bring a sense of peace."
Experts say there are things we can do, every day, to ease anxiety and depression and support your mental health. Some examples are staying in touch with the people you love; showing affection to your pets; taking some deep breaths; praying, exploring mindfulness and making a gratitude list.