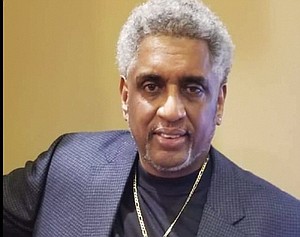 God blessed the world and us with a beautiful baby boy named Charles Lawrence Bryant Jr. on Nov. 19, 1962. He was born at John Sealy Hospital in Galveston, Texas to Brenda James Bryant and Charles Bryant Sr.
At a very young age, Charles and his family moved to Portland. He went to Holiday Park, King Elementary and Chatman Middle School, then graduated from Lincoln High School in the Class of '81.
Charles served his country in both the U.S. Army Reserve and the U.S. Army. He was stationed in Schwetzingen, Germany with the 649th Company, as well as Fort Bragg, North Carolina, and fought honorably for our country in the Gulf War, also known as Operation Desert Storm. During his service, he received numerous decorations and medals, including the National Defense Service Medal, the Southwest Asia Service Medal with Bronze Service Star-3, and Kuwait Liberation Medal - Saudi Arabia. He was then honorably discharged in 1994.
After returning to Portland, Charles held a variety of good jobs, but the one that fulfilled him most was that as an Employment Specialist with Central City Concern. He served as an advocate and mentor to Veterans and other deserving members of the Portland community. Charles loved helping and engaging with people – he was full of charm and personality, and was the ultimate personification of a people person. A testament to his giving spirit was his annual charitable coat drive, which provided winter coats to Portland's homeless community. This winter coat drive started small, then grew in its capacity to serve hundreds of people due to his determination and heart-felt compassion.
Charles, also known as "Cholly Raw-Raw, Cholly, or Chuck" to his friends and family was charismatic, funny, joyful, loving, kind, giving, and most definitely he was a people person and sometimes even humble! There are so many words to describe him. His big personality would always light up a room, and he was definitely the life of the party. Charles was smooth and cool, with a walk that you could recognize from afar. He was very adventurous and enjoyed spending time camping, fishing, golfing, horseback riding, playing tennis and watching his favorite football team the Denver Broncos. Those who knew him well felt his compassion and kindness. His adoration for his family was admirable, especially his relationship with his mother. He relished the time he spent with her, making her laugh, and assisting with her care; plus he had a huge heart for others.
Charles loved spending time with his many friends and family – from simply hanging out fishing or enjoying bike rides on sunny days, to hosting barbecues while dancing and singing off key to his favorite song – "Before I Let Go" by Maze featuring Frankie Beverly. You were never a stranger if Charles was around. His infectious smile and laughter were legendary and comparable to none. He always had a joke and enjoyed making everyone laugh and smile. Charles was full of wisdom and was always uplifting and positive. He had the gift of bringing joy to everyone and could easily change your mood by simply smiling or having a nicely-timed remark. Charles loved traveling and being in the outdoors, but above all, he deeply loved his Mom and his children – Chyna and Christian (Amari).
Charles was preceded in death by his uncle Edward Lawrence Mopplis III and his paternal grandmother Annie B. Thomas, both of Galveston. He leaves to mourn his passing his grandmother, Agnes Patterson; his mother, Brenda Bryant; his stepfather, James Hicks; his father, Charles Bryant Sr. (Linda)of Durham, N.C.; his fiancé, Melanie Dallas-Bryant; his daughter, Chyna L. Bryant of Fayetteville, N.C.; his son, Amari "Christian" L. Bryant of Las Vegas; his brother, Arthur Bryant (Lisa) of Everett, Wash.; his sister, Angela Henderson; his brother, Kamau Henderson of Garner, N.C.; his beloved niece, Ayiana Dirks; his nephew, LTJG Armani Dirks; his most-adored grandchildren, Chaliya Blue and Cameron McCormick of Fayetteville; and numerous aunts, uncles, cousins, and friends.
Charles was touched by God on Sunday, Sept. 27, 2020 and told he had completed his tasks on Earth; and that now it was time to return Home. Although we, his family and friends, think it was too soon, God knows best, and we accept and bow at His will.
We will forever cherish the many memories of love he had for his family, community, and many friends.