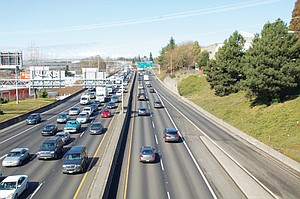 Officials say the priorities of Portland's African American community will be elevated under a new public outreach the Oregon Department of Transportation is taking to get past obstacles in the controversial I-5 Rose Quarter Improvement Project.
ODOT recently announced it is recruiting people with historic ties to the Black community in north and northeast Portland to form a new Historic Albina Advisory Board to oversee decisions that must be made on designs for the project, replacing a prior committee of residents advising ODOT, some who grew disgruntled with the planning process.
The new 17-member panel will replace a 25-member community advisory panel and will be responsible for sending its recommendations to an executive steering committee of government officials overseeing the project, ODOT said.
The original construction of the I-5 freeway and other urban renewal projects over the past five decades historically contributed to Black residential displacement in the inner city neighborhoods of north and northeast Portland. Several advocates pushing for construction of a new diverse community in the Rose Quarter area are opposed to the I-5 project as currently outlined.
This summer, Metro government, Portland Mayor Ted Wheeler, City Commissioner Chloe Eudaly and Albina Vision Trust, a nonprofit focusing on revitalizing the Albina area, all withdrew support for the project saying the plans ODOT was approving did not address historic wrongs to the black community. It happened after ODOT rejected the added expense to make the freeway caps adaptable to building structures, estimated to increase the cost to $1 billion.
According to Bike Portland Publisher Jonathan Maus, several citizen members of the former Community Advisory Committee were also concerned their advisory panel was just a rubber stamp without real power.
Retired educator and consultant Liz Fouther-Branch, a member of the committee from Portland's black community, was one of those speaking out. She resigned from the committee on July 1 and issued a statement.
"I find it frustrating to sit on advisory committees and know that all of the design, financial decisions and considerations have already been determined long before any real restorative justice can take place," Fouther-Branch wrote. "During this time of protest, it is imperative to reject minimal performance gestures that will not improve air quality, guarantee jobs, create wealth or dismantle policies, procedures and practices that continue to harm and traumatize us."
The Oregon Legislature approved $715 million to widen Interstate 5 near the Rose Quarter to fix a bottle neck and improve neighborhood transportation links. ODOT has proposed constructing some freeway caps and overpasses that would provide new bike paths, sidewalks and greenspaces, but not space for new buildings.
The African-American led Albina Vision is a grassroots campaign to see the I-5 Rose Quarter area made into a whole new neighborhood, one that is diverse, inclusive, affordable and accessible, and one that recognizes the injustice done by historical displacement and gentrification.
ODOT officials, however, promise that the new committee will be charged with facilitating a new set of values to address past harms to the Black community. The agency has recruited Dr. Steven Holt, an African American pastor and a community planning consultant to facilitate the new public outreach.
Holt has been deeply involved in bringing generational opportunity to Black residents and promoting restorative justice. He has promoted community components in planning by Legacy Emanuel Hospital to finally develop a vacant block at North Russell and North Williams Avenue, a large parcel that was a center of African American life before being bulldozed nearly 50 years ago.
Ensuring the long term benefit of the black community will be the priority as the I-5 project gets a new look, he told the Portland Observer.
Applications for the new Historic Albina Advisory Board will be online in the coming days, ODOT said.
"We want to do this right and take the time we need to develop long-term relationships with the people on this board and the Black community, said Megan Channell, I-5 Rose Quarter Improvement Project director for ODOT.
Learn more about the project and sign up for email updates at www.i5rosequarter.org.