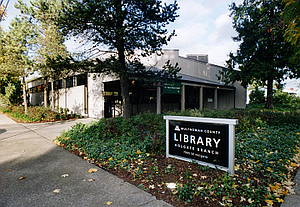 Five Portland area libraries have reopened their doors to the public for the first time in more than a year as the risks for coronavirus transmissions are lowered in Multnomah County.
Tuesday, the Multnomah County library system began welcoming patrons back inside at the  Capitol Hill, Gresham, Holgate, Kenton and Midland branch libraries, a first step in a limited and phased reopening of library spaces, officials said.
Under the governor's health emergency powers, Multnomah County moved from "High Risk" to "Lower Risk" for COVID-19 on May 27, allowing more people to gather inside businesses, faith institutions, fitness centers, and other indoor and outdoor venues. Even as this shift occurs, the Multnomah County Public Health Division recommends that everyone continue wearing masks in any indoor public spaces for the time being.
Officials said the library's reopening plans have been shaped by community engagement and outreach, led by staff who provide culturally and linguistically relevant services.
The first five locations to reopen reflect a geographic spread across Multnomah County and support the library's priorities of serving those most deeply impacted by COVID-19 and systemic inequity, officials said. The library will open more buildings in phases and expand services over time as safety and public health considerations allow.
 "People in Multnomah County love their libraries, and for good reason," said Multnomah County Chair Deborah Kafoury. "For so many, this day couldn't come soon enough. I am grateful to our community for its patience during this closure and to the library workers who developed thoughtful plans to continue this important work in new ways."
Learn more at
www.multcolib.org
.