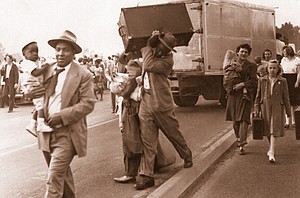 Vanport Mosaic, the community-driven and memory-activism platform sharing histories of life in Portland and the struggles with race over the course of Portland's history, has begun a month long series of community events and celebrations.
The sixth annual event in recognition of the devastating Vanport Flood of 1948, which occurred on Memorial Day and severely impacted Portland Black population, will take place under the theme "We, the People," offering virtual and in-person events to remember, repair, reclaim and re-imagine our collective story.
Close to 200 artists, activists, cultural organizers, historians, media makers, grassroots groups and non-profit organizations are expected to participate.
"The festival is a way to amplify, honor, present and preserve the many silenced histories that surround us so we can better understand the present, has been commemorating this tragedy that forever changed the social, economic, and political fabric of our region," festival organizers said.
Organized by Vanport Mosaic co-founder Story Midwife Laura Lo Forti, this year's festival offers virtual and in-person events, as well as self-guided activities, with some unique highlights, including:
The story of Vanport and its multi-racial community will be explored with a new Vanport Mosaic exhibit developed with the Pittock Mansion (Vanport: A Surge of Social Change, featuring photos, artifacts and oral histories. Now showing and throughout the month of June.
 There will also be a virtual city proclamation for a Vanport Day of Remembrance on Wednesday, June 2; artist tributes on Friday, May 28 with a virtual performance of Vanport's Siren Song by the Portland Jazz Composers Ensemble with Lyricist S. Renee Mitchell, vocalist Marilyn Keller, and composer/pianist Ezra Weiss;  a Vanport The Musical performance by Shalanda Sims on June 27; and virtual presentations.
The Festival will culminate in an outdoor 'We the People' gathering in North Park Blocks June 25-27 with  live music by Albina Music Trust; intergenerational conversations about activism and social change; vendors, poetry, morning and evenings soul restoration rituals by Darrell Grant, and a community procession facilitated by Chisao Hata.
Vanport, between Portland and Vancouver, was built in 110 days in 1942 to accommodate the influx of wartime shipyard workers, becoming the second largest city in Oregon.
More than 100,000 people called the community home between 1942-1948, including 6,000 African Americans -- three times as many as had lived in all of Portland two years before. Vanport was also home to returning World War II veterans, returning Japanese internees and Vanport College, which became Portland State University.
On Memorial Day in 1948, a flood wiped out the entire city within a matter of hours, displacing more than 18,000 residents -- one-third of them Black. This tragedy forced the overwhelmingly homogeneous city of Portland, and the state of Oregon, down the path toward interracial progress.
For full Vanport Mosaic Festival program details (with on-going updates and added events)  visit
vanportmosaic.org
.