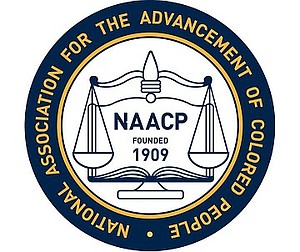 The Portland NAACP is calling on the Portland City Council to invest no monies from a $31 million surplus to the Portland Police Bureau, instead asking that the city invest in community-centered public safety solutions.

The following statement from the civil rights group was released Tuesday night in advance of a council meeting today to discuss how to allocate the funds:

The NAACP Portland Branch demands that the Portland City Council allocate absolutely none of the $31 million Fall BMP dollars to the Portland Police Bureau (PPB) and instead invests in holistic community solutions that make us safer.
Given the opportunity this "one-time" surplus provides, we must invest these funds in a forward-facing fashion, in order to meet the mounting challenges around deepening housing unaffordability, spikes in evictions, and other volatile circumstances that have left many feeling a growing lack of safety.
With the uptick in community violence, we are seeing an all-too-familiar, well-funded push for more police as a cornerstone to solving our city's problems. The violence occurring in the city hits our NAACP family especially close to home, daily. We know that community-centered solutions will always trump police on safety and the research supports our stance. 
While a citywide expansion of programs like Portland Street Response is a crucial funding concern—our membership is calling on City Council to fund other pressing issues with the $7 million earmarked for police in the mayor's proposal:
Waive fines for Black homeowners—particularly seniors—accrued from the City's inequitable complaint-based system. Fund programs such as Habitat for Humanity and Taking Ownership PDX that offer needed repairs and help Black owners retain their homes.
Fund Mutual Aid organizations and grassroots nonprofits already providing on-the-ground services to houseless neighbors; Stop sweeping people currently living on the street, a harmful tactic that allows the city to improve optics without addressing the root causes facing people without homes.
Prevent evictions: It's imperative that the unprecedented housing crisis, deepened by the ongoing pandemic and failing state relief efforts, does not displace any more of our financially vulnerable community members, and we insist that the biggest city in Oregon steps up with more rent assistance and/or a citywide eviction moratorium until all state rent assistance (OERAP) has been dispersed, since Multnomah County and the state have failed to take bold action.
Provide after school activities and more accessible childcare: Youth in our city need places to be. Without dependable well-funded activities and programs for young people we will continue to fail the future of our city. Additionally, parents are often juggling multiple jobs in this increasingly unaffordable city, while childcare options remain necessary but out of reach for families across Portland.
All of the $31 million should be tied to measurable outcomes to maximize impact and accountability of how these dollars are being spent. 
Safety is important to us all. While it can be comfortable for many to lean into ideas of what "safe" is, data remains important. An independent study released this week revealed PPB's own numbers show no direct correlation between crime rates and the level of staffing at the bureau.
We continue to be disappointed by the Council's lack of engagement on these critical issues with the local chapter of the nation's oldest civil rights organization, while new, hidden-money campaigns like People for Portland are granted meetings at City Hall and have a seemingly open-door policy. 
A year after our city became a focal point of the globe's historic Black liberation uprisings, we are seeing a shift into the very "normal" so many pledged to never return to, in a rush towards "comfort".
This Fall BMP cannot heal all of our city's wounds, but it should not be used to perpetuate them. 
It is time to invest in community-centered approaches. It is time to invest in the future.