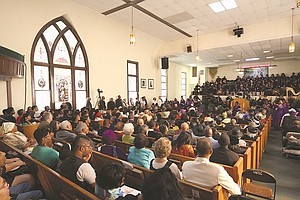 Portland's historic Vancouver Avenue First Baptist Church and its vibrant community will host a live broadcast of its annual Drum Major Celebration in honor of Rev. Dr. Martin Luther King Jr., once again avoiding an in-person event because of public health considerations during the coronavirus pandemic.

Due to Covid-19 spread and the more recent concern about the contagiousness of the Covid Omicron variant, the church decided against having a full, open door to the public event for fear of creating a "super spreader" event.

Church Pastor Rev. Dr. Matt Hennessee announced that this year's Sunday, Jan. 16 MLK celebration, scheduled for 2 p.m., will be broadcast live on Facebook at www.facebook.com/vafbc starting at 1:55 p.m. The church's annual MLK "Salute to Greatness," event, normally held a day prior, will again not take place this year because of the health concerns.

Covid and its variants have invaded Black and brown communities disproportionately and this is why the decision was made to have a virtual event and not an in-person event for the second year in a row.

"Hopefully everything will be in line to make 2023 the first time to be in-person again," Hennessee said.

As in past years, this year's celebration will feature prominent public officials and faith leaders who will give remarks and reflections, however all of the messages will be video-taped in advance. In place of a choir, carefully selected YouTube music will be selected, and rather than a guest speaker this year, an airing of the full length of Dr. King's "I Have a Dream" speech will be presented.

The public is encouraged to virtually attend the service.

 "In times like these, it is imperative that we gather as community to work together, celebrate together, and collaborate together to ensure a vibrant, inclusive, and constructive future. The spirit and legacy of Dr. King, Mrs. King, Mrs. Parks, Ms. Yolanda D. King, President Mandela, Malcolm X and so many who came before us is what gives us encouragement and hope that we will overcome the difficulties, stresses, and strains of now and continue to build the 'Beloved Community,'" Hennessee said.

Vancouver Avenue is one of Portland's historic African American venues and the only church in Oregon where Dr. Martin Luther King Jr. addressed the "Beloved Community" in November 1961 as part of a tour advancing civil rights in the Pacific Northwest.

The church's MLK celebration is also a fund-raising event. Since its inception, the Drum Major Scholarship Fund has supported activities and provided scholarships for over 300 youth and young adults in the Portland area.

All donations are welcome. For more information, contact the church at 503-282-9496 or make a donation at the "Give" tab on www.vafbc.org or by email at vafbchurch1@aol.com.