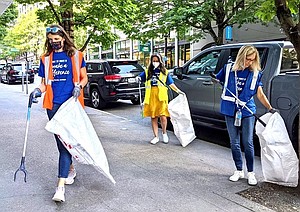 SOLVE is gearing up for its 6th annual Pick It Up, Portland!, happening on Friday and Saturday, June 24 & 25.
Volunteers are encouraged to join the cleanup effort by registering at solveoregon.org. Last year, more than 1,500 Portlanders came together to show pride for their city through the simple act of cleaning up and we expect a large turnout this year.

Families, coworkers, and community groups are encouraged to join the effort. The volunteers will receive free litter cleanup supplies and safety instructions at the project site they choose.

After the event, volunteers will simply leave their collected items with the event leader for disposal. Each piece of litter collected not only beautifies the neighborhood but also helps to keep Portland's water supply clean and free of toxic litter.

For 52 years, the nonprofit SOLVE has provided Oregonians with the resources and tools needed to give back to their community through volunteerism. Recently, SOLVE has grown its focus on the Portland metro area after seeing a rise in litter and, tangentially, a rise in Portlanders who want to be a part of the solution.

"Pacific Power is proud to partner with SOLVE in its latest city-wide cleanup efforts," said Alisa Dunlap, Regional Business Manager. "Now, more than ever, we are committed to protecting our waterways and keeping Portland clean and beautiful. We celebrate hands-on environmentalism whose impact is immediate and long-lasting."