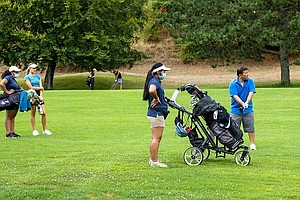 Portland students currently enrolled as ninth graders are encouraged to apply as an EAGLE Caddie, a program giving young people valuable work experience, a pathway to higher education and valuable lessons in golf.

The Early Adventures in Golf for a Lifetime of Enjoyment program is a cooperative venture between the city of Portland, the Western Golf Association Evans Scholars Foundation, and public and private high schools.
Students who are Black, Indigenous, and People of Color, female/non-binary, and/or immigrants or refugees are encouraged to apply.

Scholarship opportunities may be available to EAGLE participants. The students do not need experience in the game of golf to apply. Participants are paid an hourly wage as golf caddies on Portland Parks Golf courses. The EAGLE caddies also receive work credit hours with mentors who monitor their progress and help guide their success.

"The EAGLE program is a wonderful way for young people from diverse backgrounds to gain professional experience, learn about golf, and to see firsthand the other wonderful opportunities available with Portland Parks & Recreation," says PP&R Director Adena Long. "Dozens of students have had great success during and after being EAGLEs. 
The program is a great way to advance equity and expand the game of golf to the next generation of players."

The deadline for EAGLE applications is May 13. For more information on the program and to apply, visit portland.gov/parks/sports/eagle or contact PP&R Golf Program Manager Vincent Johnson at vincent.johnson@portlandoregon.gov or call 503-318-1432.