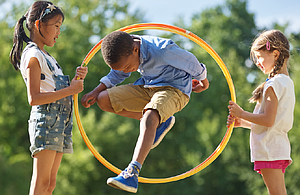 Approximately 60 Summer Meals locations in Multnomah County are open to all community youth to drop in and eat a free meal this summer. These include parks, youth programs, Gresham Library, and apartment and mobile home communities.  Some schools are open for lunch and many additional schools and camps are feeding students enrolled in summer programming.
To find a site near you, visit SummerFoodOregon.org, call 2-1-1 or text "Food" or "Comida" to 304-304. Free Summer Meals are available to all youth ages 1- 18, no paperwork required. Meals will be served on-site, so plan to stay and play.  (Due to restrictions at the federal level, the program can no longer offer Grab-and-Go meals in Multnomah County as it did during the height of the pandemic).
Meals are provided through the Summer Food Service Program in a partnership among school districts, non-profit organizations and local, state and federal governments.
This program plays a crucial role in our communities by meeting the needs of youth and families. In Oregon, around one in six children are food insecure, meaning they have limited or uncertain access to enough safe and nutritious food. This rate is still significantly higher than pre-pandemic
Hunger and food insecurity can negatively impact a child's health, social interactions, curiosity, and learning abilities. Summer Meal programs aim to address this issue. Last summer, an average of 15,815 children a day participated in Multnomah County, and over 77,000 children statewide.  The availability of free meals when school is out helps families afford the increased cost of groceries and helps ensure that students return to school healthy, well nourished and prepared to learn.