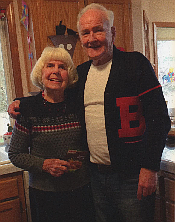 Robert R. Leighton
Oct. 14, 1928 – June 17, 2023

Robert R. Leighton died peacefully at home in Nehalem, Saturday, June 17, 2023, surrounded by his loving wife and family.
Bob was 94 years old. He was born Oct. 14, 1928, in Oakland, Calif. to Frank E. and Eleanor (Harris, nee Schneider) Leighton and moved to Oregon at an early age. He graduated from Benson High School in Portland where he lettered in football and earned all-team honors. He proudly utilized the trade skills he acquired at Benson his entire life, completing every kind of household project, major remodels and other work, and then providing the same help to his family and others.

He was an enthusiastic outdoorsman who explored virtually every corner of the state by fishing, camping and hiking. His extensive fishing experiences made him familiar to all the good fishing holes along the Nehalem, Trask and Wilson Rivers and other coastal streams. He built his own dory boat in 1966 to fish Tillamook Bay and the ocean waters off Barview. In recent years, he operated a shuttle ride service for Nehalem drift boat fishermen.

Bob was employed as a laborer at Union Carbide in Portland for 33 years, representing United Steelworkers Local 4103, where he served as a long-standing member of the contract negotiating team and as treasurer.

An early retirement gave Bob, with his wife, Mary (Berg), many loving years together to reside in their cabin nestled against Oregon State Forest and the Nehalem River, where they both pursued fishing, hiking vacations, and other interests and hobbies in the company of family and friends.

His love for family was especially expressed in the way he celebrated and encouraged the accomplishments of all his children, grandchildren and great-grandchildren, regularly attending their school and sporting events and helping out in any way he could.

Bob is survived by his wife of 71 years, Mary;5 children, Laurie McInnis (Mike) of Willamina, Jim Leighton (Linda Hamilton), Mike Leighton (Michael Grimmett) and Cathy Rossetto (Steve), all of Portland, and Steve Leighton of Garibaldi;5 grandchildren, Randi Schmidt, Sam and David Moore, and Teresa and Matt Rossetto;3 great-grandchildren, Chloe, Ben and Brook; and several loving step grandchildren, nieces and nephews, and many friends.

He was preceded in death by his brother, Edward Leighton and sister, Virginia Froembling.

A mass will be celebrated, Friday, June 23 at 11 a.m. at St. Mary's by the Sea Catholic Church in Rockaway Beach, 275 S. Pacific St.; with burial to follow at 3:30 p.m. at Mt. Calvary Cemetery in Portland, 333 S.W. Skyline Blvd.