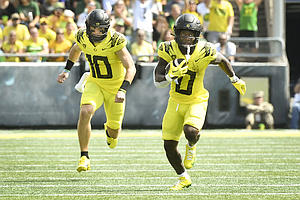 (AP) — Quarterback Bo Nix said the Ducks did what they needed to do in their home opener, even if it wasn't much of a contest. Nix threw for 287 yards and three touchdowns before heading for the bench early in the third quarter and No. 15 Oregon built a 43-point halftime lead en route to an 81-7 victory over Portland State on Saturday.
It was the most points for the Ducks in a game in the modern era, and a scoring record at Autzen Stadium. "I thought we went out and executed what we were supposed to do, scored a lot of points, we were consistent. We didn't make any mistakes, we didn't beat ourselves," Nix said. "I thought it was a very clean game." It was also Oregon's 19th straight win in a home opener. The Ducks have won 31 straight non-conference games at Autzen Stadium, dating to 2008.
Bucky Irving ran for 119 yards and two scores, while Jordan James rushed for 86 and three more. Troy Franklin and Gary Bryant Jr. each caught a pair of TD passes.
Dante Chachere threw for 35 yards and the lone touchdown for Portland State, which plays in the Big Sky conference. Chachere also ran for 53 yards.
"Oregon's opponents will have a hard time finding a weakness in that team," Portland State coach Bruce Barnum said. "I just watched four quarters of it and they are pretty damn good. They are not just fast, they are a strong football team. ... We were outmatched everywhere."
The Ducks, who will be departing the Pac-12 in 2024 and joining the Big Ten, went 10-3 overall and 7-2 in the Pac-12 last season. Oregon climbed to No. 6 in the AP Top 25, but a pair of late losses to Washington and Oregon State kept Oregon out of the playoff picture. The Ducks rallied in the fourth quarter to win the Holiday Bowl 28-27 over North Carolina. The Vikings, embarking on their ninth season under coach Bruce Barnum, were 4-7 overall last season and 3-5 in the Big Sky.
"Overall we played very clean, we stopped them on defense, we did really good on special teams. I thought we handled field position really well, we controlled the ball on offense, we moved it, we had a lot of explosive plays, we didn't have a lot of penalties" Nix summarized. "Overall we did what we were supposed to do. In a game like that, that's what we wanted."